Early works start on TransGrid's major transmission project EnergyConnect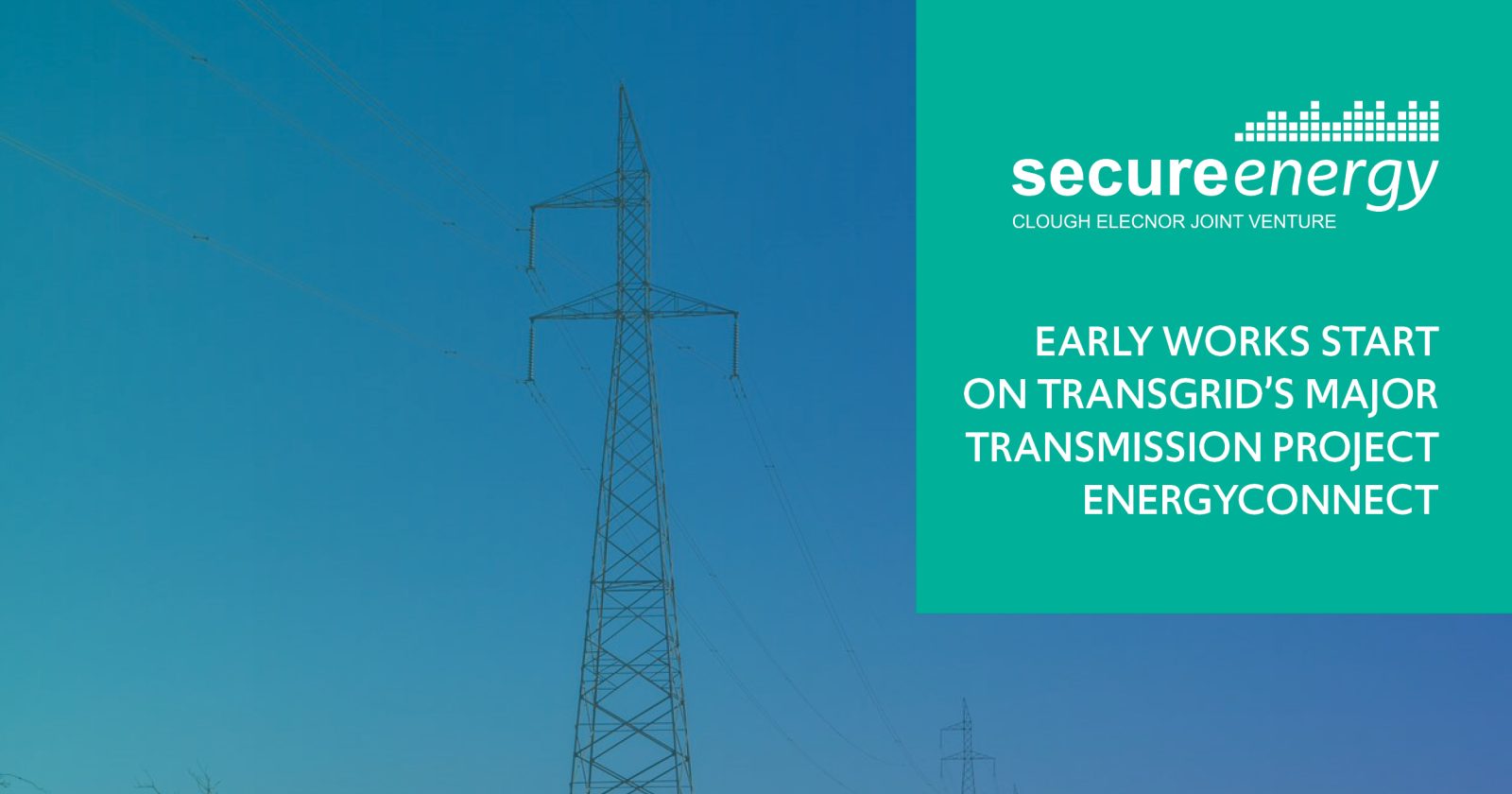 SecureEnergy is proud to announce that the preliminary works are underway to build workers' camps and numerous studies are being undertaken now to prepare for the start of construction on TransGrid's once-in-a-generation transmission project EnergyConnect.  
TransGrid Executive General Manager of Delivery Craig Stallan said, "It's exciting to see early works underway on EnergyConnect and we are proud to be working with local community representatives to deliver this transformational project,"  
"Commencing the pre-construction activity is the result of years of planning and demonstrates that we are well on the way to building the grid of tomorrow which will enable the integration of renewables for a clean energy future, reduce the nation's carbon emissions and help drive down the cost of wholesale electricity," he said. 
 Our project team, in collaboration with TransGrid, are progressing a 700-kilometre section of the 900-kilometre project from the South Australian border to the regional energy hub of Wagga Wagga. 
"Not only will the new interconnector enable the sharing of electricity between New South Wales, South Australia and Victoria; it will also save NSW energy customers $180 million a year and generate up to 1400 new jobs." He said. 
The project involves nine different NSW Councils and more than 300 stakeholders including a range of road, rail and river users.  
The bulk of the pre-construction activities are currently being undertaken on the western alignment, between Wentworth and Buronga. Some preliminary geotechnical activities are being conducted on the eastern section around the proposed camps and laydown areas.  
David Whatmough, SecureEnergy Project Director said: "It's great to get underway and we are currently completing a number of pre-construction activities on the western alignment before construction begins with many of these works occurring simultaneously."  
The preconstruction activities include:  
Construction of access points to camp and laydown areas 

 

Geotechnical investigation works 

 

Undergrounding activities 

 

Road dilapidation inspections 

 

Survey works 

 

Ecological surveys 

Cultural heritage works 

 
Main works are expected to begin on the western alignment in mid-2022, with construction of the camps and laydown areas expected to begin in the final quarter of 2022. The construction of the eastern alignment, (Buronga to Wagga Wagga) is due to commence in 2023.  
Ends- 
About Clough  
Clough is a pioneering engineering and construction company established in 1919 in Perth, Western Australia. Clough delivers sustainable high performing assets for the infrastructure, resources and energy industries underpinned by a dedication to problem solving and getting the job done safely and efficiently. 
Today, Clough manages a global workforce of over 2000 people from operating centres across Australia, Asia Pacific, UK, and North America that strive for the best in everything, setting new safety and performance benchmarks every single day. 
Clough is a wholly owned subsidiary of Murray & Roberts, a multinational group that focuses its expertise on delivering sustainable and fit-for-purpose project engineering, procurement, construction, commissioning, operations, and maintenance solutions. The Group delivers its capabilities into the resources, industrial, energy, water, and specialised infrastructure sectors. 
About Elecnor 
Elecnor is a leading Spanish business group in the infrastructure, renewable energy, services and new technology sectors. 
With over 60 years of continuous growth and a presence in 55 countries, Elecnor operates in various sectors, including electricity, gas, industrial plants, railways, telecommunications, water, control systems, construction, the environment, installations maintenance and aerospace engineering. Elecnor's strong international vocation has led the company to embark on a continuous expansion process that has opened doors to new markets all over the world, mostly in Europe, North America, Central America, South America, Africa, Australia and the Middle East. 
Elecnor is listed on the Continuous Market and has a team of highly qualified professionals and a workforce of 14,855 employees. In 2019, the company reported revenues of EUR 2.454 billion and a consolidated net profit of EUR 126.4 million. 
18 Mar, 2022