EnergyConnect will Provide Job and Business Opportunities for Western NSW region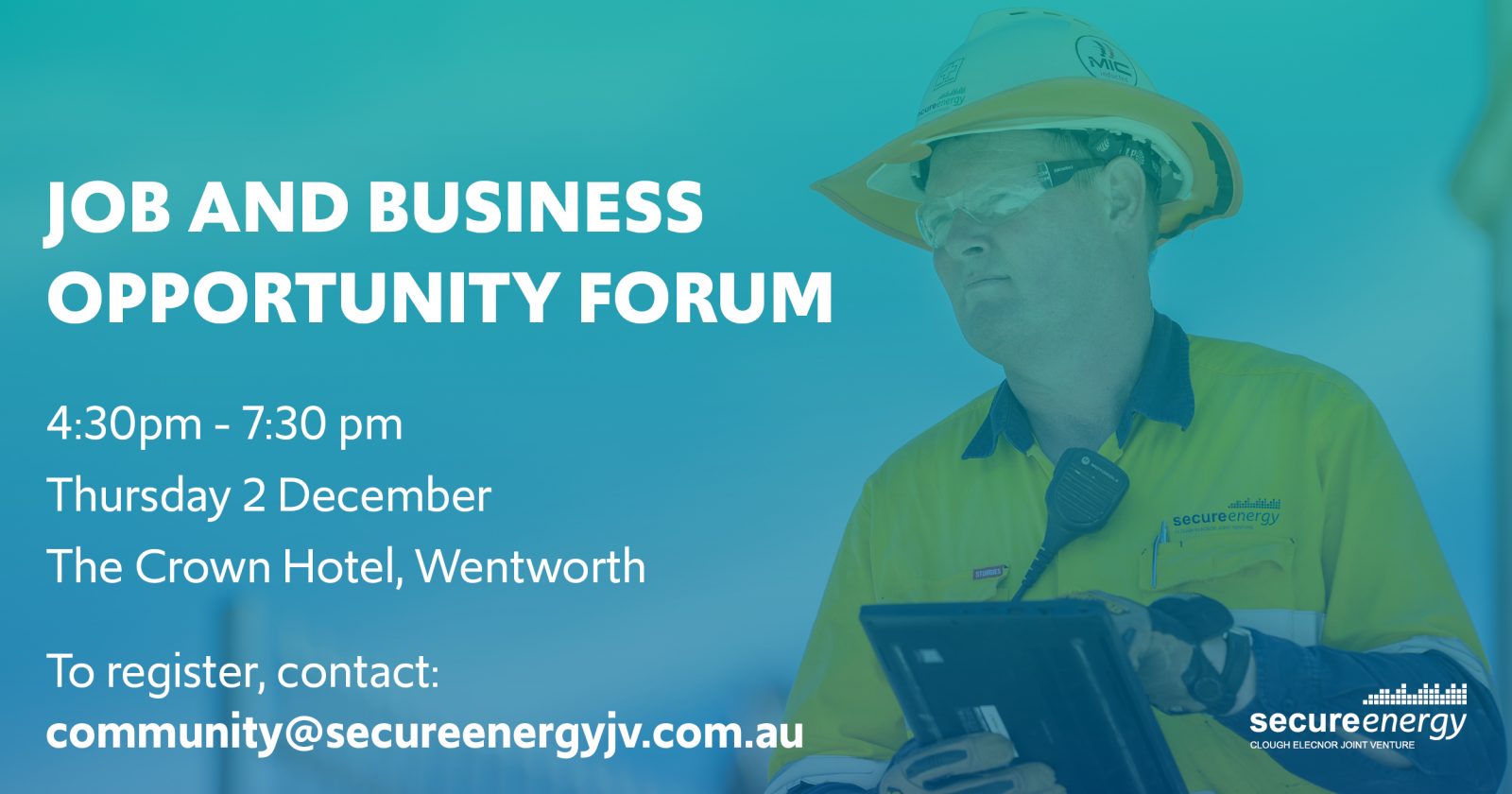 Regional business owners and workers are encouraged to attend a forum in Wentworth, NSW next week to learn more about opportunities being created by Transgrid's major transmission project EnergyConnect, a 700 kilometre interconnector being built from the New South Wales/South Australian border to Wagga Wagga.
Executive Manager of Delivery Craig Stallan said "We encourage regional communities to get involved in the project, which will create up to 1500 jobs in NSW over the next two and a half years.
"Transgrid, through its construction partner SecureEnergy, is building one of Australia's largest infrastructure projects and this will provide opportunities to a wide range of local suppliers and workers."
Jobs will include construction, road transport, accommodation, cleaning services, catering, fencing, surveying and geotechnical services, labourers and trades, plant operators and construction engineers.
SecureEnergy is holding an information evening on the employment and business opportunities on Thursday, 2 December 2021 in Wentworth, NSW. It will include some of SecureEnergy's major subcontractors as well as representatives from SecureEnergy's Human Resources Team.
David Whatmough, SecureEnergy Project Director said the forum will explain the different types of work packages available over the life of EnergyConnect.
"The work will be staged and so will the jobs over the duration of the project – which will provide a boost to regional economies even after the project is completed in late 2024. We want to build a legacy so that the skills training needed on our project remains in the regions for years to come."
SecureEnergy is also collaborating with the NSW Government's Business Connect and Industry Capability Network (ICN), NSW to help regional businesses become pre-qualified for work on the EnergyConnect Project. Works packages are found on the Industry Capability Network (ICN) website at https://icn.org.au
The forum is 4:30pm – 7:30 pm, Thursday 2 December at The Crown Hotel, Corner Sandwych Street and Darling St, Wentworth. Suppliers can find more information by going to the SecureEnergy website and accessing the Supplier Information Guide: www.secureenergyjv.com.au
About Clough 
Clough is a pioneering engineering and construction company established in 1919 in Perth, Western Australia. Clough delivers sustainable high performing assets for the infrastructure, resources and energy industries underpinned by a dedication to problem solving and getting the job done safely and efficiently.
Today, Clough manages a global workforce of over 2000 people from operating centres across Australia, Asia Pacific, UK, and North America that strive for the best in everything, setting new safety and performance benchmarks every single day.
Clough is a wholly owned subsidiary of Murray & Roberts, a multinational group that focuses its expertise on delivering sustainable and fit-for-purpose project engineering, procurement, construction, commissioning, operations and maintenance solutions. The Group delivers its capabilities into the resources, industrial, energy, water and specialised infrastructure sectors.
About Elecnor
Elecnor is a leading Spanish business group in the infrastructure, renewable energy, services and new technology sectors.
With over 60 years of continuous growth and a presence in 55 countries, Elecnor operates in various sectors, including electricity, gas, industrial plants, railways, telecommunications, water, control systems, construction, the environment, installations maintenance and aerospace engineering. Elecnor's strong international vocation has led the company to embark on a continuous expansion process that has opened doors to new markets all over the world, mostly in Europe, North America, Central America, South America, Africa, Australia and the Middle East.
Elecnor is listed on the Continuous Market and has a team of highly qualified professionals and a workforce of 14,855 employees. In 2019, the company reported revenues of EUR 2.454 billion and a consolidated net profit of EUR 126.4 million.
26 Nov, 2021