Meet Lance Watts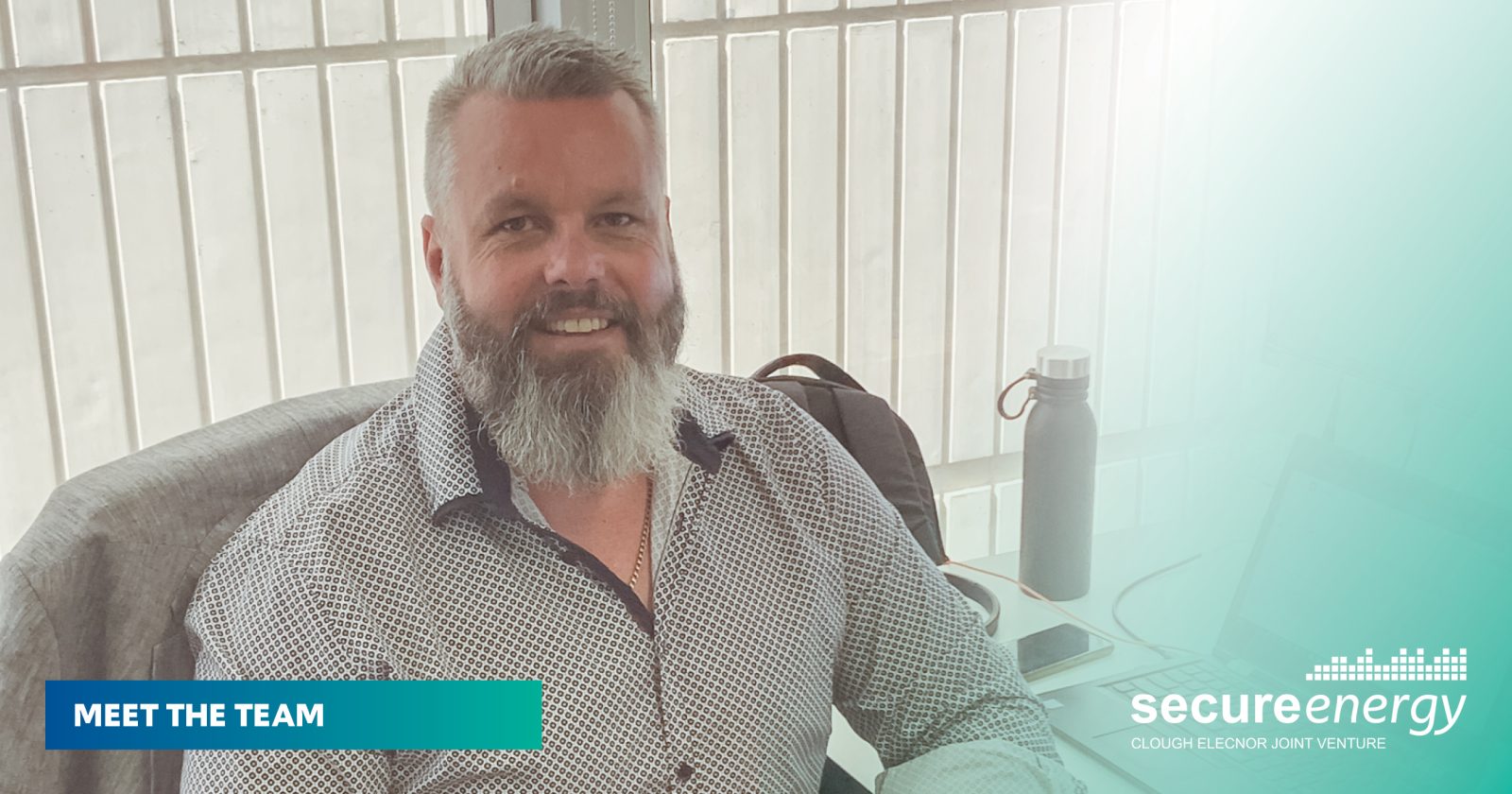 EnergyConnect is one of Australia's major infrastructure projects that boasts many skilled and dedicated people working behind the scenes on this innovative project.
We want you to get to know some of our incredible SecureEnergy team members. Meet Lance Watts, SecureEnergy Early Works Manager.
Watts in a name
Lance Watts has worked in the Electrical Equipment in Hazardous Areas (EEHA) in the gas, mining and electrical industries for over 32 years, specialising in high pressure, critical infrastructure and boutique gas facility installations.
His project work spans gas facilities work, power generation, turbine engines installation and commissioning of control systems, power distribution and Australian compliance both in Australia and abroad; from Kazakhstan in Central Asia, to China, Japan, Korea, and Singapore. At the age of 26, this "born traveller" was supervising projects worth around 100+ million and more.
Lance has received many opportunities and has found himself in roles, "rubbing shoulders with some great mentors, forging strong working relationships with contractors and industry professionals."
He is now passing on his passion for all things electrical to his three sons, with two qualified electricians in the family and his third son, entering the pre-apprenticeship program.
"I always thought with a name like Watts, we had no choice," he jokes.
Pure-bred Cloughie
It's not just his family who are benefiting from his insights and knowledge from a lifetime working on construction sites around the world and across Australia.
Five years ago, armed with extensive industry knowledge, a Project Management Degree, and a long list of industry qualifications, he joined Clough, global engineering and construction company headquartered in Perth, WA.
He was invited to join the prestigious Clough Project Management Academy and went on to hold senior key roles including Senior Project Engineer – Electrical & Instrumentation, Asset Panel Manager, Project Manager, Senior Construction Manager, Commissioning Manager, Corporate Construction Manager E&I; and Company Nominated Electrical Management Representative for Clough Projects – EC Licensing WA / VIC / NT / NSW, a qualification he proudly holds.
"SecureEnergy is a joint venture with Clough and Elecnor so I haven't left Clough, I'm sharing my experience working with a new team in a new joint venture," said Lance.
"High voltage transmission lines and substation builds have always fascinated me and that's what drove me to apply, and the fact my wife who also works on the EnergyConnect Project was excited by an opportunity to work and live in Sydney."
As Early Works Manager, Lance is the contact point for both Clough and the SecureEnergy client, Transgrid; it's an exciting role.
See it, schedule it, plan it, visit it
Although the Early Works Manager role is based in Sydney, Lance can be found regularly on site working closely with his team.
"You can see it, schedule it and plan it from the office but to successfully execute the works, getting into the field is extremely important to me as it is for all members of the dedicated SecureEnergy team."
His role, assisted by his team of project engineers, supervisors, HSE and Enviro team members, involves managing all the subcontractors that support construction commencement and execution.
"We bring together lots of different companies with varied skills and experience and tune them into the SecureEnergy way. We introduce our subcontract partners to the Major Accident Prevention (MAP) program which is critical to the way we conduct our business."
Early Works includes everything from geotechnical drilling, heritage survey, environmental surveys, dilapidation surveys, and LiDAR surveys, where drones and lasers are used to measure and map the topography of the EnergyConnect alignment using a light detection and ranging scanner and many more supporting packages.
"I am tech-savvy so I am up with the latest and greatest and this technology is incredible with drones able to survey three kilometres in thirty minutes for the full width of the easement corridor – just imagine how long that would take with traditional survey methods."
Lead by example
At the end of the day, he says his intention is to achieve the key project milestones, understand the critical path and the complexities of environmental approvals, and procurement lead times to succeed.
"I am part of an accountable team, so it is not all about me, every member of my team plays an important part of project delivery" he says.
"We can champion the high-performance outcomes of the Project but the legacy we leave behind is very important and really dependent on the efforts and energies of everyone."
Adding: "We want to achieve and maintain collaborative contract principles; zero harm; minimal environmental impact; community solutions and genuine Indigenous engagement; these are the things that matter to me."
His mantra is to lead by example through accountability, innovation and respect whilst applying his industry expertise in the construction industry to complete challenging projects with no compromise on safety.
Ends –
About Clough 
Clough is a pioneering engineering and construction company established in 1919 in Perth, Western Australia. Clough delivers sustainable high performing assets for the infrastructure, resources and energy industries underpinned by a dedication to problem solving and getting the job done safely and efficiently.
Today, Clough manages a global workforce of over 2000 people from operating centres across Australia, Asia Pacific, UK, and North America that strive for the best in everything, setting new safety and performance benchmarks every single day.
Clough is a wholly owned subsidiary of Murray & Roberts, a multinational group that focuses its expertise on delivering sustainable and fit-for-purpose project engineering, procurement, construction, commissioning, operations and maintenance solutions. The Group delivers its capabilities into the resources, industrial, energy, water and specialised infrastructure sectors.
About Elecnor
Elecnor is a leading Spanish business group in the infrastructure, renewable energy, services and new technology sectors.
With over 60 years of continuous growth and a presence in 55 countries, Elecnor operates in various sectors, including electricity, gas, industrial plants, railways, telecommunications, water, control systems, construction, the environment, installations maintenance and aerospace engineering. Elecnor's strong international vocation has led the company to embark on a continuous expansion process that has opened doors to new markets all over the world, mostly in Europe, North America, Central America, South America, Africa, Australia and the Middle East.
Elecnor is listed on the Continuous Market and has a team of highly qualified professionals and a workforce of 14,855 employees. In 2019, the company reported revenues of EUR 2.454 billion and a consolidated net profit of EUR 126.4 million.
08 Feb, 2022