SecureEnergy Business and Employment Forum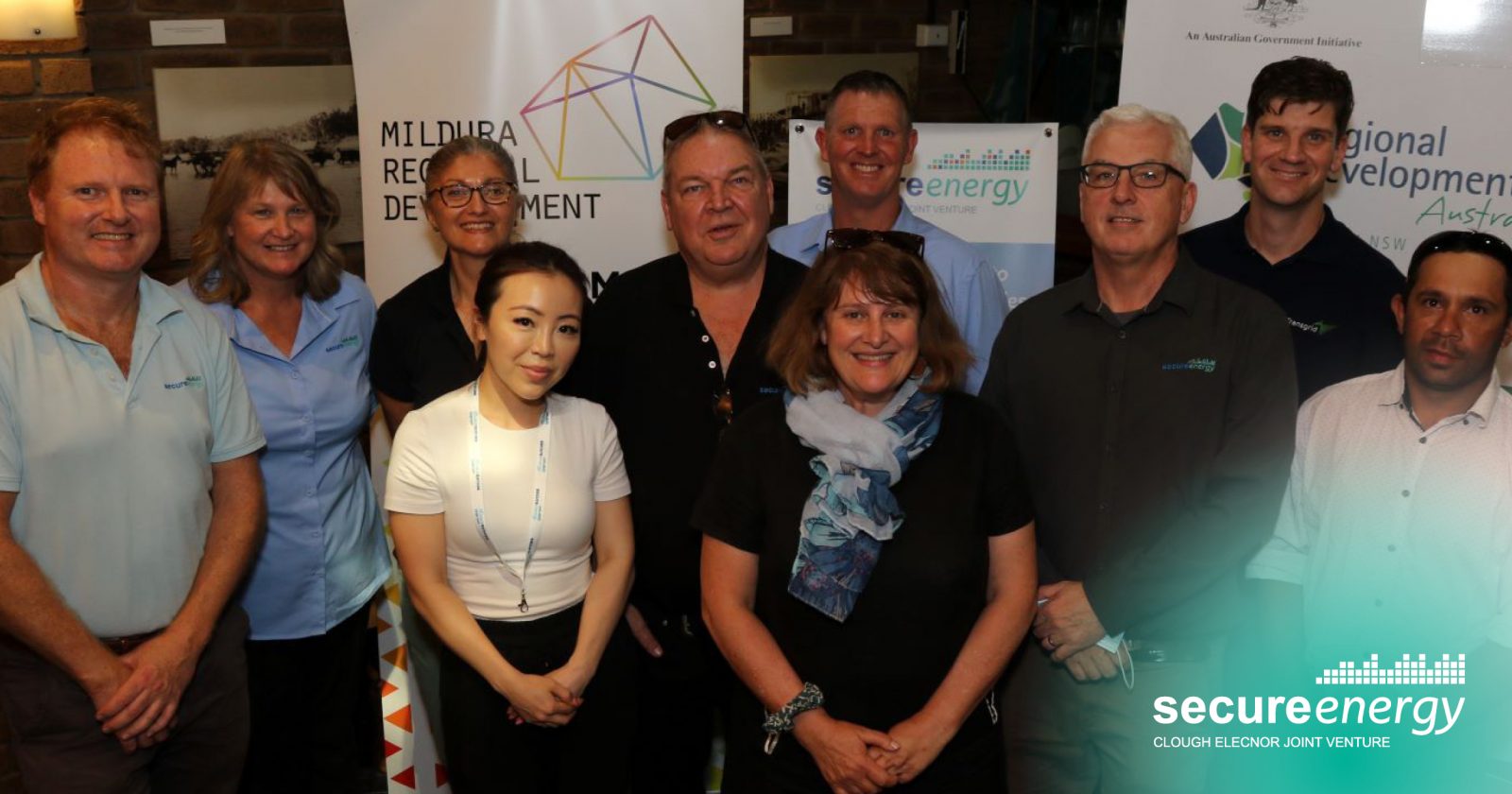 SecureEnergy in partnership with Transgrid would like to thank the many local and regional businesses and organisations that attended the SecureEnergy Business and Employment Forum at the Crown Hotel in Wentworth, NSW recently. We were pleased with the high level of attendance and interest in EnergyConnect.
The Forum, which was held on Thursday, 2 December 2021 included some of SecureEnergy's major subcontractors such as Australian Portable Camps (APC), ESS Facilities Management and Support Services, Aqura Technologies along with representatives from SecureEnergy's Human Resources Team. Together, they showcased the opportunities available for local suppliers and workers.
Also supporting EnergyConnect, NSW Government's Business Connect and Industry Capability Network (ICN), Regional Manager – Murray Riverina Geoff Reardon; Develop Mildura's Brett Millington and Sharon Morrell; Wentworth Shire Council, Director Health & Planning Matthew Carlin; and Regional Development Australia (RDA) Murray, Edwina Hayes.
The Forum began with a Welcome to Country by Barkindji Nation Elder, Uncle Arthur followed by an address from David Whatmough, SecureEnergy Project Director who told attendees there were many different types of work packages available over the life of the 700-kilometre project.
"I am proud to say EnergyConnect is one of the largest infrastructure projects of its type in this country and I am excited to be leading the organisation tasked with the construction of transmission power infrastructure for Transgrid. SecureEnergy is committed to empowering local communities through job creation and providing opportunities for regional businesses and that's why we are here today to start that conversation," said Mr Whatmough.
"We want to leave a positive footprint long after the project is physically complete that involves engaging and providing opportunities for communities, organisations and individuals. We want to offer career pathways to local people who want to work and have fulfilling roles and stay close to family and friends; we definitely want to support regional and local businesses by preparing their workforces to be ready for the project and helping them go that next step to be procurement-ready, so it is easy to understand and easy to engage with us," he added.
Transgrid's Manager of Stakeholder and Communications for EnergyConnect, Mitchell Hume, told the Forum the project was a critical part of the nation's transition to a low carbon future.
"EnergyConnect will be a key link in the National Electricity Market, so we are really excited to bring this into a reality now. One of the things Transgrid is interested in, besides building infrastructure, is building relationships – because when we get to the end and we flick a switch and electricity starts running through a transmission line, we have to manage that for the next fifty years," said Mr Hume.
"It is really important to us that people who live in and around the infrastructure we are building have had a chance to be involved in its development and construction and can take a role in how we manage that throughout its operational life."
Adrian Whiting, SecureEnergy Local Industry Participation Manager, said the Forum provided the opportunity for businesses and individuals to interact with organisations who
are going to supply to the EnergyConnect project.
"These organisations can help you develop your business to be ready for EnergyConnect but also for the projects that are coming over the next decade."
Ends –
About Clough 
Clough is a pioneering engineering and construction company established in 1919 in Perth, Western Australia. Clough delivers sustainable high performing assets for the infrastructure, resources and energy industries underpinned by a dedication to problem solving and getting the job done safely and efficiently.
Today, Clough manages a global workforce of over 2000 people from operating centres across Australia, Asia Pacific, UK, and North America that strive for the best in everything, setting new safety and performance benchmarks every single day.
Clough is a wholly owned subsidiary of Murray & Roberts, a multinational group that focuses its expertise on delivering sustainable and fit-for-purpose project engineering, procurement, construction, commissioning, operations and maintenance solutions. The Group delivers its capabilities into the resources, industrial, energy, water and specialised infrastructure sectors.
About Elecnor
Elecnor is a leading Spanish business group in the infrastructure, renewable energy, services and new technology sectors.
With over 60 years of continuous growth and a presence in 55 countries, Elecnor operates in various sectors, including electricity, gas, industrial plants, railways, telecommunications, water, control systems, construction, the environment, installations maintenance and aerospace engineering. Elecnor's strong international vocation has led the company to embark on a continuous expansion process that has opened doors to new markets all over the world, mostly in Europe, North America, Central America, South America, Africa, Australia and the Middle East.
Elecnor is listed on the Continuous Market and has a team of highly qualified professionals and a workforce of 14,855 employees. In 2019, the company reported revenues of EUR 2.454 billion and a consolidated net profit of EUR 126.4 million.
23 Dec, 2021