The two of us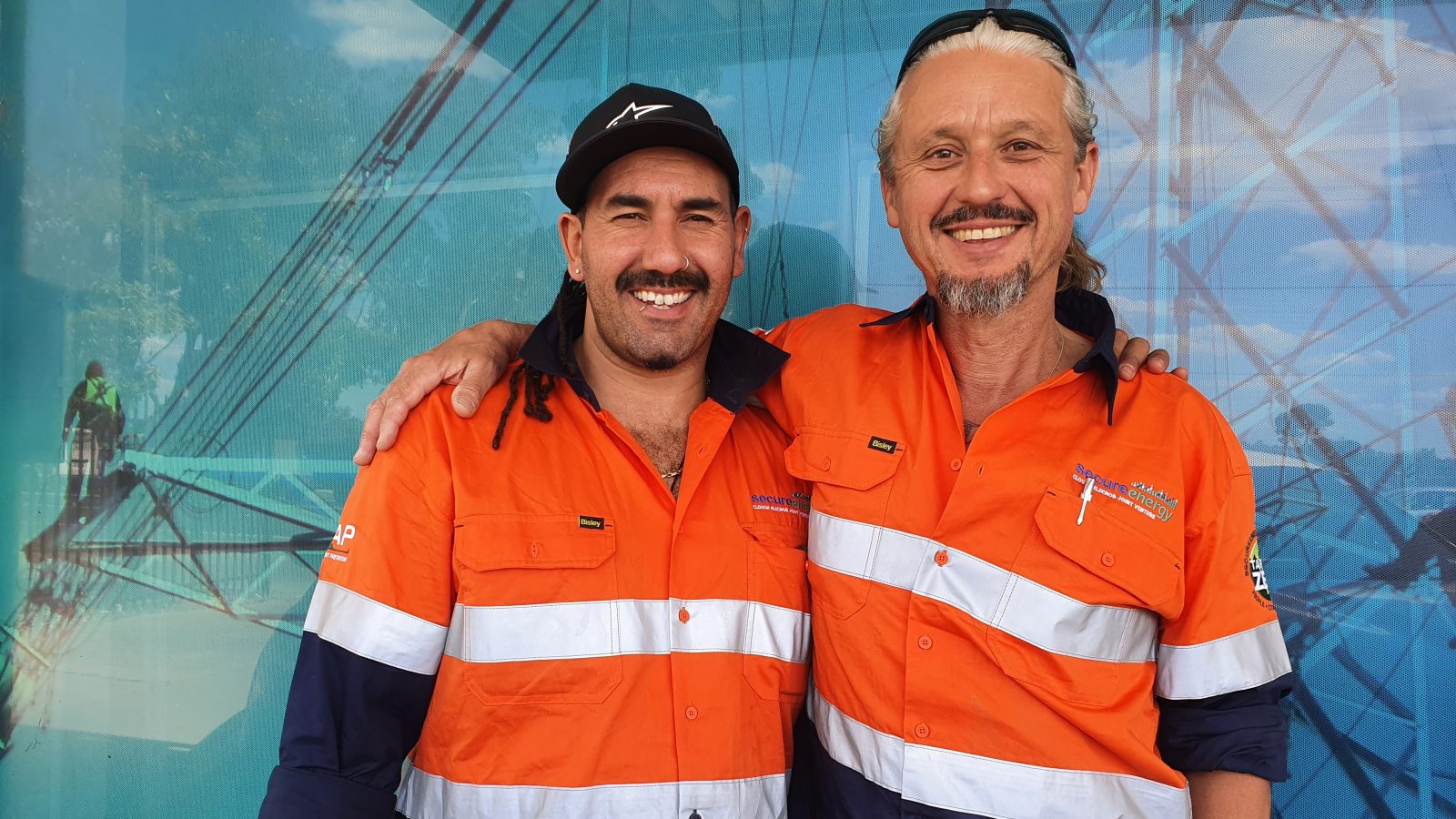 Phillip Blasi (38) and Kian Blethyn (49) have worked together building transmission line towers across Australia. They first met in 2002 on a project in WA from Cataby substation to Eneabba substation. The pair now find themselves working on the EnergyConnect Project, Australia's largest transmission line project. They have much in common including a deep desire to pass their knowledge onto a younger generation working at heights.
Phillip Blasi
I have been a linesman for more than 22 years and I am now a superintendent. I am following in the steps of my old man who came to Australia from Napoli, Italy back in the seventies. All my uncles also worked as linesmen. Back in those days, everyone spoke Italian on the Aussie transmission lines. There were lots of other workers from many European nations during this post-war exodus, but Italian was the language spoken. When I started, we would sit by the radios as they called people's names to the towers. Everyone learnt Italian quickly.
I love the thrill of the work; the fact I am never in the same spot and the pride I take in building transmission towers. It is second nature to me. My sister Lisa and her husband Cale, also both work on the project. Lisa is a safety and administrator officer, and Cale is the Overhead Transmission Lines Construction Manager. It is a family affair.
I share a lot of similar values with my friend Kian. We were both raised in WA, we share a passion for our work, we love working remotely and we want to pass on our knowledge. We are building our crews so we can teach a younger generation how to create something new.
Kian Blethyn
By chance I met a girl in Melbourne who was travelling to Spain. I was looking for some work that paid well that would help me travel with her. A friend's father asked me if I was interested in working in Queensland. I had no idea what the job was, but I said yes. That was the start of a lifelong passion. I am a superintendent and specialise in the assembly and erection of transmission line towers. It's all about problem solving and never looking down.
It's hard work. Back then the Italians worked long hours and that hard work was passed onto us. There were no holidays just a few days off at Christmas and that was it. I love being wild and free, working hard and building something that is tangible.
My work has enabled me to travel the world. I have lived in many places such as Morocco, Spain, and South America. When I am not working on transmission towers, I am also an artist.
Phillip and I have worked across Australia. We have learnt many secrets from the old Italian crews. We know how to keep safe. We know that if you do things properly, understand why you are doing something and follow all the steps, you will do a good job. Knowledge is gold and we want to pass it on.
Ends –
16 Dec, 2022